The SAT Test Dates 2023 – 2024 (USA & International students). Start preparing for SAT test and choose the best date that suits you.
SAT Test Dates 2023 & 2024?
Students don't fret as the SAT exam takes place several times in a year i.e. March, May, June, August, October, November, and December. Now you can choose when to sit in your exam without any fear. It is usually instructed by professors to appear in your SAT exam as soon as you enter junior year so that you have a chance to appear again if needed. Typically, students sit in two or three SAT exams before they achieve their goal scores.
SAT Test Date*
Registration Deadline
Deadline for Regular Cancellation
Aug 26, 2023
Domestic: Jul 28, 2023
International: Aug 11, 2023
Aug 15, 2023
Oct 7, 2023
Domestic: Sept 8, 2023
International: Sept 22, 2023
Sept 26, 2023
Nov 4, 2023
Domestic: Oct 6, 2023
International: Oct 20, 2023
Oct 24, 2023
Dec 2, 2023
Domestic: Nov 3, 2023
International: Nov 17, 2023
Nov 21, 2023
Mar 9, 2024
Feb 23, 2024
Feb 27, 2024,**
May 4, 2024
Apr 19, 2024
Apr 23, 2024**
June 1, 2024
May 17, 2024
May 21, 2024,**

Source College Board
Should Students Book SAT Test Dates In Advance?
This is a very good question, well yes students should try to register themselves for SAT as early as they can before college application deadlines. But every student is not the same; one specific date of exam cannot be appropriate for everyone, therefore you should not decide on a date that let's say your friend or classmate selected, it might not work for you. Look for the dates that you are confident with and analyze the time limit for university application and where you want to apply. Every college or university has mentioned its closing date on the official website, make sure to go through them. Now match your exam dates with the last date of applications and pick one, it is recommended to take the assessment five to six weeks in advance before sending in your submissions to colleges. 
SAT Dates for International Students
2023-22 SAT Dates 
SAT Test Date*
Deadline for Registration,
Registration Changes, and Regular Cancellation
Aug 26, 2023
Aug 11, 2023
Register
Oct 7, 2023
Sep 22, 2023
Register
Nov 4, 2023
Oct 20, 2023
Register
Dec 2, 2023
Nov 17, 2023
Register
Mar 9, 2024
Coming soon
May 4, 2024
Coming soon
June 1, 2024
Coming soon
*Your registration options will be limited if you aren't taking the SAT for one of its main purposes.
Anticipated Fall 2024 School Year Test Dates
SAT Test Date*
August 24, 2024
October 5, 2024
November 2, 2024
December 7, 2024
Preparation For SAT Test Dates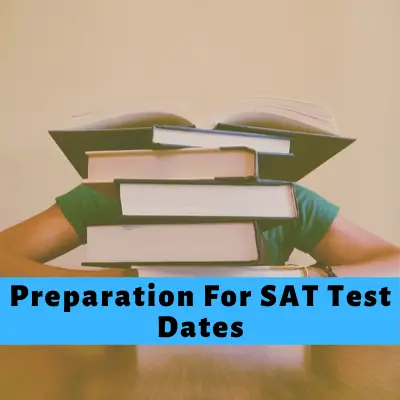 Many students ask this question frequently when to start their preparations. which time would be appropriate for them to begin? Students don't be confused, you are the only ones who can answer this question and deal with this issue. Every student is unique, you are different from your friends, your habits vary, your schedule is not like theirs, and your school and subjects may be different so you have to decide when to study for SAT exams yourself. Some students train only for a short time to accomplish their objectives whereas others need more effort. Your friends may need three months of preparation meanwhile you could take up to four months to understand and go through all the subjects. If you are still anxious you may take a practice SAT test beforehand to analyze your skills and determine what kind of preparation is required in advance. While you have started practicing for your exam you should go to various college websites and look for the program of your interest, investigate how much score you need to get in order to enter the degree, and make that your target. If you need to exert more effort, then increase the number of hours that you need to study in a day gradually. This will increase your stamina from the start and by the time your real exam date comes closer you will be ready. Do your best, you have learned everything, now is the time to show it.
Just How To Prepare For The Approaching SAT Test Dates?
Get Ready For SAT Test Dates Using Books
Many SAT books are available at your local markets and libraries of your districts. Search online and look for the nearest bookstores. Several places give student discounts as well and sell books at a reasonable price for students.
Free Online Training For SAT Test Dates 
Nowadays it's very convenient to access SAT sample papers online at home. You can just hit the search button and countless websites will appear, showing you how to download free papers for SAT. Training through test papers will help you to figure out the arrangement of SAT test and will improve your capacity. You can focus more on your studies in this way and you don't have to think about paying money to anyone; they are free.
Group Study For SAT Test Dates
Organize a revision plan with a bunch of your friends or a partner. They will assist you in improving your abilities and inspire you towards better scores. You can always encourage each other and enhance one's confidence level. Revising and preparing together will give you a significant boost in energy and you will be prepared in no time. 
Time Management For SAT Test Dates
How much time will it take you to get ready for your SAT exam? The simplest method is to divide your time into months and then subdivide them into hours and organize them keeping in mind all the subjects that you have selected. If this is your second time to sit in the exam you can tell where you need to work on now, pay attention to that initially, and practice that part further. Retain your pace and go on practicing until you achieve your goal.
Study For SAT Test Dates With Schools
Many community colleges offer evening classes for local residents for SAT practice. You can always join them, studying with a group of people is more convenient than studying alone all by yourself. You can ask your instructor all the questions that you want to and you can always have a discussion with your fellows to remove your problems after class.
How To Select SAT Test Dates?
Scheduling a test is hard for nearly all students. Usually, applicants plan their SAT test in the early months of the year so that they can repeat the exam if needed like if you have appeared in March before, you can sit in a retake in June again. If you are not pleased with your scores there is always next time.
How To Select SAT Test Dates To Reappear?
Students, if you want to retake the SAT exam, you can honestly give it any time you think that you are ready for it. If you have already given one test in March and want to give another this June, it is totally ok as you will get time to practice and analyze yourself. But make sure you leave yourself some time to take another test if this one doesn't work out or you are still not satisfied with the way it turned out. Also, keep in mind the deadlines that you have to consider and the colleges that you want to apply to.
How To Choose SAT Test Dates When Taking Both SAT And ACT?
There is a possibility that most students are sitting for more than one exam in one year. In this case it's very important that you manage your schedule, check which dates would be comfortable for you, when can you sit, test locations, which dates are overlapping or is there enough time in between them. You should be careful not to exhaust yourself too much. Candidates normally SAT and ACT test dates never overlap, they are designed in such a way that students who want to give both of them won't have to suffer. But the dates can be a few weeks apart if this is the case begin your training as early so that you can rest a bit afterward. Start practicing now, don't overburden yourself. Work hard you can surely reach your goal.
Are SAT Test Dates For The International Students Different? 
International students have different schedules depending on their regions, a student from the U.S. might have a different test date than the one living in Europe. International students, please scan through the official website for more information on test dates. 
What If SAT Test Dates Are Rescheduled Due To Bad Weather?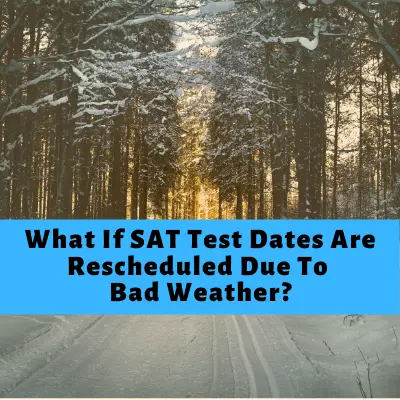 This normally doesn't happen but in some seasons there is too much snow or rain, it can affect the entire area including the test centers. You will be rescheduled and notified if something like that occurs. You can search for more information online and don't worry the SAT team is always there to assist you.
Which SAT Test Dates Have Easy Exam Questions?
Students this is a very silly argument, there is no such thing as good and bad exam dates. You might have overheard someone say this but this is not the case. Someone might have found some parts of the test easier or more difficult than others in some situations but this is not at all true. You cannot say that test in March is easier than the test in June. This is just a misunderstanding; your tests cannot be the same as your friends who gave SAT last year or in the last sitting. Just prepare yourself and don't think about others. You need to practice hard so that you can be confident on your test day.
Can SAT Test Dates Be Changed After Registration?
Students this is good news for you, yes you can reschedule your exam anytime you want as there is no closing date for that. But you would have to pay $28.00 for this but don't have to repeat the entire registration process again.
Exam Centers For SAT Test Dates
The SAT exam takes place at countless locations worldwide every year. In the U.S. there are numerous centers in every state. Look for the nearest location for your convenience, check the official SAT website for particular details.