What Is GMAT?  
GMAT is a standard computer-based test that is recognized globally and it stands for 'Graduate Management Admission Test'. It is a prerequisite for the students applying for management degrees like Master in Business Administration or Finance for various universities. It was started in 1953 by an association known as the Graduate Management Admission Council (GMAC). A GMAT test merely judges the capability of the students who want to enter business programs and evaluate their skills.  The GMAT test mainly comprises of four parts i.e. analytical writing, integrated reasoning section, quantitative reasoning and verbal reasoning part.
Test Structure: What's In The GMAT? 
The GMAT test is taken in English language and it takes about three hours and thirty minutes in total for the four parts of the exam to complete. This duration also includes two breaks of eight minute each but it's up to you if you need a break or not. 
The Analytical Writing Section
The analytical writing section is a thirty-minute session comprising of only one question. You would have to critically analyze the given argument in the paper.
The Integrated Reasoning Section
The integrated reasoning section is a thirty-minute session consisting of twelve questions in total. Students would be asked to analyze graphs and tables and interpret them. Moreover, other sections include multi-source reasoning and two-part analysis as well. Different statements would be given with the questions and your job is to pick the best match.
The Quantitative Reasoning Section
The quantitative reasoning section is a sixty-two-minute long part containing thirty-one questions in total. There are two types of quantitative questions firstly problem solving and secondly data sufficiency. Your math skills are also tested in this portion, you should be able to solve questions relating to algebra, arithmetic and geometry however a calculator is not allowed.
The Verbal Reasoning Section
It comprises of thirty-six questions and the test will conclude within sixty-five minutes. This portion specifically tests your reading, critical reasoning and sentence correction.  You will have to critically examine a passage and analyze its conclusion or solve and correct the sentence structure, grammar and choose the best answer from the options provided.
Benefits Of GMAT Test?
Taking a GMAT test has many advantages.  It allows you to enter various management programs in any university globally without having much difficulties. A higher GMAT score gives you a chance to apply for the management degree or the university of your choice. You can cancel your scores if you are not pleased with them and sit in the exam eight times in total. Most importantly GMAT is valid for five years.
GMAT Test Dates And Registration Procedure?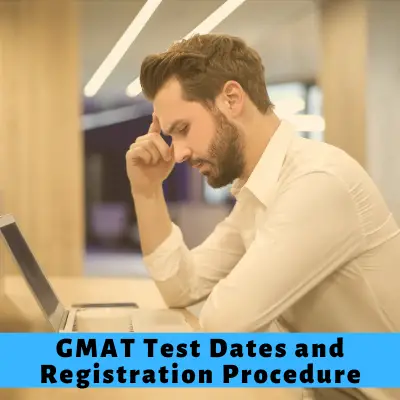 Students make sure to register two or three months before the exam, you are also allowed to register six months before the actual exam. The procedure of registration for the GMAT test is relatively easy. Firstly, create an account on the official GMAT website (https://accounts.gmac.com/Account/Register) after entering your information like your name and address. Candidates can choose the dates and the test centres that are near them. Next step includes payment for the GMAT test and a couple of options are available to you for your ease. Students can now pay using credit or debit card like Mastercard, American Express, VISA or JCB. Students can use their phones to register as well but you will be charged a fee of $ 10 separately. Other methods include registration by mail, you can post your form and fee to the respected address or even fax your application.  One GMAT test can cost you up to $250.00, depending upon on your region so kindly check your local centre for further information. A fee of $ 25 is also charged if you want to cancel your scores and $ 50 if you still want to reinstate those scores. The GMAT test is held several times in a year, the official website can tell the particular dates for the exam and there are many options to select from and it depends on you. The GMAT handbook is free for you to download. Students can give the exam again if you are not satisfied with your scores and put in more will power next time. You are allowed to give the exam five times in a single year but not more than eight times in total. Test results are accessible online after five to twenty days and you can check them by entering your info in your account or you can get them at your school too.
How Should I Prepare For GMAT?
Numerous practice books can be obtained from your nearby libraries and book stores so that you can prepare for your GMAT test.  Unlimited online lectures are also accessible to you that will save your time and money. Revision of past papers will improve your capacity and would strengthen your abilities for the exam day. A good score in GMAT can be accomplished by proper preparation and training. Repeat difficult portions of the test over again so that you will be more ready on your test day and it will also strengthen your self-confidence. Organize a study plan with your class mates and practice for your assessment. Many websites are there for your help and support in case you feel that you are still deficient. Various inexpensive academies are also open near you, you should scan your area and register. All that hard work will definitely get you outstanding results. Always be resolute in your training and you will certainly reach your goal.
My GMAT Scores
Students can have a score varying from 0 to 6 for analytical writing section, for integrated reasoning section scores can range from 1 to 8 while scores for quantitative reasoning section can vary between 6 and 51. The verbal reasoning section is also having the same range for scores, i.e. 6 to 51 depending upon your capability. It depends what level of scores are required by your university generally students score between 200 to 800.
Special Care For Disabled Students
Applicants with disabilities can take GMAT exam. Candidates which have mental or health problems must report first when registering to check which centre can facilitate them on the test day without having any problems.
Important Information For Candidates: What Should You Know?
Identification Is Mandatory For GMAT
Applicants will be asked to show suitable documentation before the examination starts. Students must make sure that they are presenting a valid that is not expired till your exam day. You can use a passport or any government issued ID, or a driver's license is also acceptable. In other cases, a military ID can also be used. Make sure your picture is clear and your name and spellings should match with your documents including your date of birth. Don't bring photo copies to the centre it is not acceptable. If you cannot present an ID, GMAT team has complete rights to cancel your test and you will have to reschedule and fee will not be refunded.
Exam Day: What Can You Bring?
Personal belongings like earphones, watches, dictionaries, books, calculators are absolutely not allowed during the test. Additionally, electronics like pagers, laptops and phones or smartphones are also not acceptable during the exam and are forbidden. Weapons like knives or guns are banned from exam centre as well. The GMAT team is not responsible in case of any loss to your personal belongings. All of these items will stay outside of the examination hall and storage is provided to you in the centre to place your belongings while you take your test.
Instructions Of The Exam Hall
 Listen to all the guidelines carefully in the examination centre to avoid any delays before your test begins.
Timings Of The GMAT Test
On the test day it is recommended that you reach early; thirty minutes before your test starts so that you can check-in without stress. You are allowed to reschedule if you are having an emergency but you will not be refunded and you will have to register again for the test.
Food Items: Can I Bring Them?
Brining food into the exam hall is strictly prohibited during your test.  It is recommended to eat or drink before the paper so that you can pay attention on your assessment entirely. There will be no food break once the exam starts.
Time Management For The GMAT
Allocate your time appropriately according to the amount of questions present in the exam. Be confident of your answers before marking them. 
Conduct
Students causing disturbances will not be tolerated. This can lead to your disqualification; effective immediately.
No Cheating During The Exam
Students please don't use any unfair means to take your test. Anyone caught cheating or using any other way to gain advantage would be eliminated by the GMAT team.
When Can Students Exit The Exam Hall?
The timings of the exam vary depending upon your country. Candidates will be released once exam finishes after around three hours and thirty minutes.