What Is TOEFL?  
TOEFL is a standard english proficiency test that is recognized internationally. It was introduced in 1964 by Dr. Charles A. Ferguson; a professor at Stanford University and it generally stands for 'Test of English as a Foreign Language'. It is one of the most recognized english proficiency assessment for non-native english language speakers. Moreover, TOEFL test is developed and managed by an organization known as Educational Testing Service (ETS) till date. It is a compulsory english examination for the students who want to pursue higher education aboard or people who want to work or migrate. TOEFL test is favoured by many universities in the U.S., France or Germany, and it also a requirement for numerous degree programs in Canada. Furthermore, it is also accepted in Australia, New Zealand, United Kingdom (UK) and many Asian and European countries.  The TOEFL test basically checks the english language skills of the students by conducting various listening, writing, reading and speaking tests. Some of the colleges or universities abroad still accept other kinds of english language test like IELTS. The TOEFL exam can open more opportunities for you in upcoming years and is the first step towards your career.
Test Layout: What's In The TOEFL?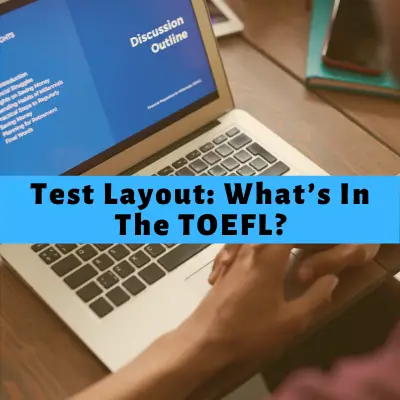 The TOEFL test is set in English language and is taken online. It takes approximately three hours in total for the four parts of the exam which are reading, listening, speaking and finally writing. A ten-minute break is provided between the tests.
The Reading Section
The reading section contains three to four passages and involves thirty to forty questions. Make sure to read the passages carefully and this phase is around fifty-four to seventy-two minutes long. The material for the exam can be selected from any kind of books or journals.
The Writing Section
The writing section has two parts and the candidates will be asked to complete this section within fifty minutes. Students have to write an essay by using the material that was discussed during the reading and listening sections. 
The Speaking Section
The speaking test will merely take seventeen minutes. Your examiner will ask you to talk about a topic that you are familiar with and discuss what you have already read and heard in the sections earlier. 
The Listening Section
It comprises of twenty-eight to thirty-nine questions and the test will conclude in forty-one to fifty-seven minutes. You will listen in this section and answer the questions.
TOEFL Test Dates And Registration Procedure?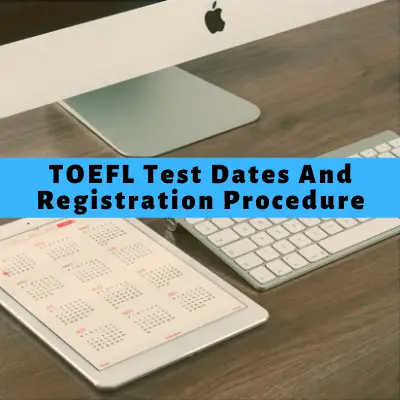 The procedure of registration for the TOEFL test is quite simple. At first create an account on the ETS website after entering your general information. Next you can simply register by filling in an online request form on the ETS website. Applicants can choose the dates that are appropriate for them and click submit. A valid documentation must be provided at the time of submission of request. Next step includes payment for the TOEFL test and a number of options will be provided to you for your convenience. Students can now pay using credit or debit card like American Express or Discover, other options include JCB, China Union Pay and Diners Club, even Mastercard or VISA card. Additionally, you can use your PayPal account if you are in the United States. Students can use their phones to register as well through app. A single TOEFL test can cost you up to $160.00 to $250 depending upon on your region or country. Check your local centre for this information. A late fee of $ 40 is also charged if you are late for registration. Your test scores can also be revised by paying a fee of $ 80 to $160 depending upon which part you want the TOEFL team to review again for you. The TOEFL proficiency test is held numerous times in a year, the official ETS website can tell the exact dates for the exam and there are many dates to select from and it depends on you. You can reappear if you are not satisfied with your scores and put in more determination next time. Test results are accessible online after eleven days and you can check them by entering your info in your ETS account. 
How Should I Prepare For TOEFL?
Countless practice books are available at your local libraries and stores so that you can prepare for your TOEFL exam.  Unrestricted online lectures are also available to you which will not only save your time but money as well. Repetition of past papers will improve your ability and would strengthen your skills for the exam day. A good score in TOEFL can be attained by proper planning training. Review tough parts of the test again so that you will be more prepared on your test day and it will also lift your confidence. Organize a study plan with a group of friends or class mates and practice for your test. Numerous websites are there for your assistance and guidance in case you feel that you are still lacking somewhere. Many affordable academies are also open near you, you just have to check your area and register. All that mentoring will surely get you excellent results. Remember to be determined in your training and you will definitely reach your goal.
TOEFL Scores
The TOEFL scores of each student vary according to their english proficiency, there is no pass or fail in this test. It depends what level of scores are required by your university. You can have a score ranging from 0 to 30 for reading section, for listening section also from 0 to 30 whereas scores for speaking section can vary between 0 and 30. The writing section is also having the same range for scores, in total your scores can range from 0 to 120 depending upon your capability.
Care For Disabled Students
Applicants with disabilities can take TOEFL exam. Any candidate having mental or health problems must be discussed with TOEFL team earlier, so that preparation could be made for you.
Information For Applicants: What Do You Need To Know?
Identification For TOEFL?
Applicants should have appropriate documentation before preceding to the examination centre. Identification must be valid and make sure it's not expired till your exam day. Use the same documentation that you used when you registered for your exam. Make sure your picture is clear and your name and spellings should match with your documents. Students bringing a questionable identification will not be permitted to give the exam and fee will not be refunded. In this case ETS has complete rights to cancel your scores if any fake information is given by the students or ID requirement is not met.
What Can You Bring On Your Exam Day?
Electronics like notebooks and phones or smartphones, electronic watches are not acceptable throughout the exam and are prohibited. The TOEFL team is not accountable in case of loss or damage of your personal belongings. Personal belongings like coat, scarves and hats are not allowed during the test, you are also not allowed to wear jewelry other than rings. Rest of the things will remain outside of the examination hall or in some test centres plastic bags or storage is provided to place your belongings while you sit in your exam.
Instructions Of The Exam Hall
 Listen to all the directions carefully in the examination hall to avoid any delays before your test commences.
Timings Of The TOEFL Test
The TOEFL test timings vary from country to country. It is advised that you reach early; thirty minutes before your actual test begins so that you can check-in without a hassle. You are allowed to reschedule if you are late or you have missed the exam due to any emergency. You can give the test once in three days and not more than that and you need to register again for the test but your fee will not be refunded.
Food Items: Am I Allowed To Bring Them?
Food is usually prohibited during your test. If you have a medical reason and want to bring eatables inside, in this case you should inform the TOEFL team beforehand. Otherwise it is advised to eat or drink before the exam so that you can focus on your test completely. Breaks for food will not be given once the exam starts.
Time Management For The TOEFL
Allocate your time properly according to the quantity of questions present in the assessment. Think before marking your answers. Answer your invigilator suitably during your speaking test. The supervisor allotted to you will guide you during your speaking test so don't worry.
Conduct
Students creating disturbances can be disqualified from exam so maintain order in the exam hall.
Cheating During The Exam
Don't use any unfair means to finish your exam. Students caught cheating or using any other means would be disqualified by the examiners.
When Can Students Exit The Exam Hall?
The timings of the exam differ from one country to another. Students will be free once exam ends after about three hours.