Importance Of GED Classes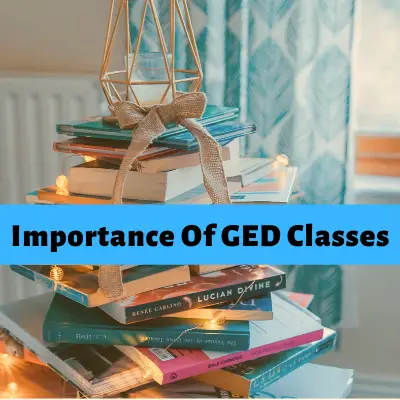 Remember students the GED exam is relatively simple but its preparation requires time. You can organize yourself and start making a plan for your exam from today, however, you have to search for the correct approach to prepare for it and off course you need the right resources too. For your help, various free online GED study books are accessible worldwide along with online GED classes and online GED sample tests too without any registration so you won't be spending any money it's absolutely free.
Why You Should Join GED Classes?
GED test is equivalent to a high school diploma and it is very important for everyone to be satisfied with their scores so that they can apply for the jobs that they always wanted. You should be able to score five hundred an eighty in the exam at least. Moreover, in all four subjects, students should get one hundred and forty-five scores. This is the way you need special preparation and training so that you can achieve a high score and get into the university of your choice. Though some GED classes require some type of payment, there are still numerous websites that promise free online GED classes and training. These sites provide you a free syllabus, the structure of tests and subject breakdown, sample tests, reference material, even provide lectures through short videos to help you prepare your exam. The samples they provide are very near to the actual test and its continuous practice will give a strong idea of the assessment.
Learn More About GED Test 2020: General Educational Development (GED) TEST
How GED Classes Help You Succeed?
As a matter of fact, GED classes are pretty useful. It is very difficult for students to make up their minds and study themselves. Most students complain it's just too tough to start, they don't know from where to start, which subject to go through first or even how to divide the four subjects. They can't seem to manage their time properly either. If you are facing all these problems, you need to attend a proper class and register yourself quickly without wasting time. The instructor will give you proper guidance and train you mentally and emotionally to give a GED exam. He will build your stamina slowly and will show you the correct way to manage your subjects. Moreover, you will get a proper schedule for preparation, you will also be able to ask questions freely and most importantly you will get your confidence back.
Online GED Classes For Students
So many students prefer online classes for preparation these days as they have a lot of advantages. Firstly, you can study from home on a computer or your phone, you don't have to go outside and waste your time or get a bus to an academy, secondly, it is cheaper. Studying online gives you more options, more websites have a different set of questions and you can practice a lot in a very short time. You don't have to wait for a class you can study whenever you want according to your schedule and wherever you want. You can save and download your lessons and practice questions, you can continue them later or whenever you have time. You can check out the correct answer instantly and correct yourself if you are wrong and practice more. Most importantly you can design your study plan yourself or make it more flexible according to your requirement or pace. Students you also don't have a carry a bundle of books all the questions for all the subjects are available on a single page. You just have to click on specific subjects and start practicing. The paper format, structure, breakdown of subjects, tips and tricks for the exam are all available on a single website.
Our Free GED Practice Test will help you pass faster
Evening GED Classes For Students 
You can always take evening classes for GED if you have school in the morning, or a job or simply don't have time for preparation in the day time. You can search online and look at which classes are available to you somewhere near you. Some of these classes are conducted in public schools or libraries or even community colleges. These types of classes can also be available at national literacy directories. You can type in your zip code or area code to look for classes near you.
Taking GED Classes: How Will They Prepare You?
Professionals would be available at an academy or class that you are taking. They would help you face to face and you can ask them any questions that you want. GED classes in your area can be 2 or 3 hours long and you might have to take them 3 or 4 times a week. Tutors will help you with all the sections of the test so that you can be successful on your test day.
GED Classes For Reading Section
Tutors will help students to read and comprehend texts and analyze them.
GED Classes For Social Studies Section
 In this portion, tutors work on history, geography, economics section with the students.
GED Classes For Writing Section
Tutors will help you where you feel that you are lacking. They will help you with your essay, work on your grammar, sentence structure, spelling, and punctuation.
GED Classes For Science Section
Some students find this part of the paper really hard. In order to train students, tutors, help strengthen student's skills in the field of life sciences, physical sciences, and earth sciences by practicing with them.
GED Classes For Math Section 
In this section, the tutor focuses on algebra, geometry, and arithmetic. He will focus on problem-solving questions with you and how to manage your time.
Math Practice In GED Classes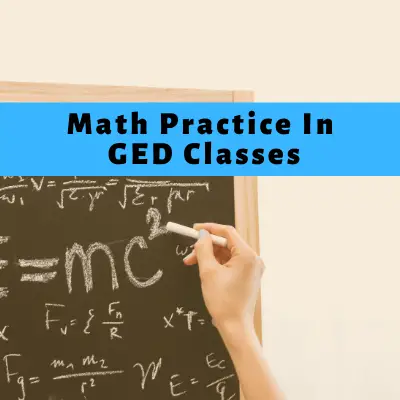 GED math portion contains forty-six questions relating to math. The time given for this is only one hundred and fifteen minutes so you have got to stay sharp and focused. So there are forty-one questions in which you can use a calculator. The good news is that you can bring your own calculator, thus if you practice more you can save time and review your questions gain before submitting. You can practice to avoid any silly mistakes and be more familiar with your calculator.
There are some aspects that you might want to think about before joining a GED class. They are listed as follows:
Why You Should Take GED Classes?
This is mostly optional, but there are some requirements in some states. Like in Nebraska state students under eighteen are asked to take GED courses so that they could sit in the exam. Also in the state of Hawaii, students must take sixty hours of guidelines before taking a GED exam if they want to earn their GED certificate. The government has made this compulsory for them.
Fee Structure For GED Classes
When choosing an academy or any type of classes for GED you students have to keep the cost in mind. Some classes can be very costly whereas others can be budget-friendly. Students here you have to choose wisely, select the type of class which will give you better results. Sometimes you are not satisfied with one class and might need to switch to another class so be careful select the one which suits you better in the first place. A locator tool can also help you find a GED class in your neighborhood. When you have checked that information, you can sign up easily, a GED course can cost up to one hundred and thirty USD.
Schedule For GED Classes
For some students, it might be difficult to stick to the schedule of the classes if they are outside your home and you have to take a bus to take a class. In some academies, you can only sit with the tutor whereas other places might provide online lessons or videos to you. It's very tough to manage for the students sometimes who have school in the mornings or jobs that you can't take a break from. It's very important that once you have decided to take a class for GED you have to manage your schedule and adapt to it.
Instructors In GED Classes
If you hire a GED instructor, you have the capability to ask a lot of questions in person. You can take his assistance wherever you get stuck. It might be a bit costly but they are too many advantages that you cannot ignore. It's a great opportunity for you to get excellent scores and learn within a short period of time. You can get his feedback too regarding your training and future preparation.
Why Are GED Classes Better Than Group Study?
If you like to study with friends, you can start a study group or find a study buddy. This will cost you almost nothing and you can have all the benefits of a group study like discussing practice questions, helping each other in reading and writing, correcting each other when you are wrong, or help solve a problem when one gets stuck. You can revise all concepts together and encourage each other.