Getting a GED certificate is quite simple actually. It just requires time and dedication. Students can look for guides that are accessible at various book suppliers and their nearby libraries or collections in school. Many online lessons are wisely planned for you to accomplish your dream, hurry up, and register for free. If you want to prepare yourself the best way is to practice the questions which would give you enhance your skills even more. Practice samples of the past questions would give you more knowledge and will amplify your time management abilities. The official GED website has everything that you need to know including the division of subjects, test schedules, registration process, and most importantly GED practice tests.  It will guide you all the way through.
GED Practice Tests Are Straightforward
It is true that the GED test is fairly long and contains a large number of questions. However, you can always give the tests separately for each subject and no need to give them in one go. The exam is designed to test your skills and you can shine better if your more focused and relaxed about the number of questions left. Take a slow start and deal with each problem one by one and you will surely reach your goal. You only need to revise what you already know and just follow the pattern of practice tests and you will be ready in no time.
Learn More About GED Test 2020: General Educational Development (GED) TEST
Official Pattern Of The GED Practice Test
The arrangement of the test itself is quite straightforward and clear for all students. The test is roughly seven hours long. Mostly the test in the form of multiple-choice questions (MCQs). Few of the problems are fill-in-the-blank type questions permit the students to choose their own responses. Additionally, there are questions involving reasoning where you have to mark the best answer. As the essay is also included in the test to review the sentence formation, grammar, punctuation, and spelling ability of the candidates. There are different sections in the test with a varying number of questions for each section. A very specific time is allowed for each part and the student has to make sure to finish the test keeping time in mind. The GED is basically an aptitude test that analyzes the skills of students in main math, social studies, science, and reasoning through language arts.
Official Paid GED Practice Tests
Components Of GED Practice Test
The practice test for GED includes the following sections:
GED Practice Test Math Section
There are a total of fifty questions in this portion that should be completed within a duration of ninety minutes. Out of which forty are multiple-choice questions (MCQs) and the remaining ten involve grids. The math section revolves around algebra, graphs, geometry, and some basic math.  Math formulas are given to the students for reference throughout the exam. Please keep in mind there are no breaks between any part in this section. The GED math section mainly comprises two sections and each has twenty-five questions in them.
Permitting the use of a calculator (part one) 
Not allowing the use of a calculator (part two)
Part One Of GED Practice Test Math Section 
This portion is taken first. The students are given a booklet for the test, a scratch paper, and lastly a calculator. After about forty-five minutes have passed you will have to return all the materials along with the calculator. Casio fx-260 scientific calculator is provided to every candidate in the center so you don't have to bring your own calculator. Your part one ends here.
Check Our Online GED Classes
Part Two Of GED Practice Test Math Section
The new test booklet and scratch paper are given to the students for this part and this time a calculator is not provided. In the grid questions, students can mark their answers and plot on the graphs. The test focuses on all the areas of math. It involves different number operations, algebra, functions, geometry, statistics, analysis of data, graphs of different types, probability, and analysis.
[wp_quiz id="12108″]
GED Practice Test Social Studies Section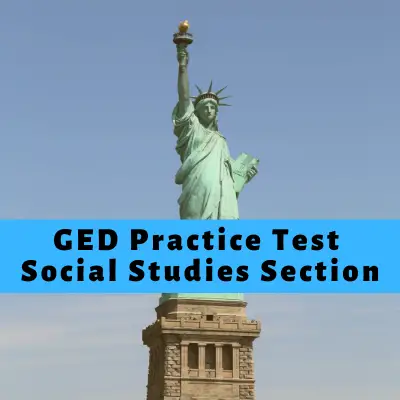 There are a total of fifty questions in this section that should be finalized within seventy minutes. They are all multiple-choice questions (MCQs) involving the history of the United States of America, Geography, Economics, Government and Civics, Geography, and World History.  The MCQs are based on graphics or on text or it could include both of them. Professionals say that more than sixty percent of this portion of GED is related to graphics whereas the remaining forty percent is associated with text or passages. Students there is no break in the middle of this section.
GED Practice Test Science Section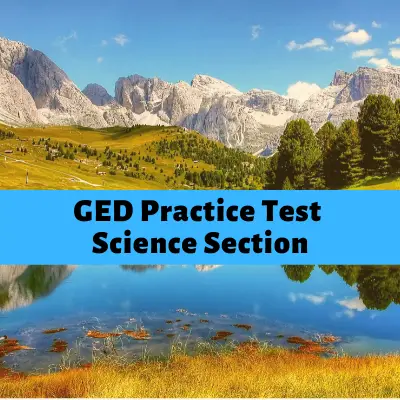 The GED science portion is ninety minutes long and includes thirty-four multiple-choice questions (MCQs) and two short questions. The science section covers many topics involving nature and technology; your High School science concepts should be clear as you will be asked to analyze graphs or charts and give your reasoning to a certain paragraph. You don't have to learn any statements or definitions or long processes but your concepts should be strong enough to answer the questions. Casio fx-260 scientific calculator will be provided to every candidate in the center on their screens. You are not allowed to take any break during this part of the exam.
GED Science Test 1
[wp_quiz id="12110″]
GED Practice Test Reasoning Through Language Arts Section
Students will be allowed about one hundred and fifty minutes for this portion of the GED test. The first section has a total of fifty-one multiple-choice questions (MCQs) that should be completed between ninety-five minutes. This section includes a ten-minute break and after the break students have to work on a forty-five-minute essay. Students should have a good understanding of drama, poetry, prose, and fiction and should know how to analyze and comprehend the paragraphs given to them. Their editing, sentence structure, and formation will also be tested in this portion of the GED.
GED Language Arts Test 1
GED Language Arts Test 2
GED Practice Test Tips And Tricks
Read every question two times before you answer the question. This is a very common mistake that the students make, they don't read the question properly and miss out on the important information hence mark the wrong answer. You should slow down you have time.  On the other hand, sometimes students over-read the question making the situation a bit too complicated for themselves and then again they select the wrong answer. Make sure to correct this habit of yours it could lead to confusion.
It is recommended that you answer all the questions even if you have to guess. At least try to find the right answer until the end or until you have time. The GED test team does not give a negative mark when the question is wrong.
Allot your time properly according to the number of questions present in the test. Divide the questions over time in your mind and start answering your questions at your own pace. If you think a certain question is taking too long, then skip it for now and return to it later after finishing your test. It is very important that you don't waste too much time on one question. After each section, you should check if you would be able to complete on time or not, otherwise hurry up and do simpler questions first or parts that you find easier. 
GED test in distributed in such a way that you have to analyze graphs or a paragraph and show your interpretation skills. So these questions will require more time. In this confusion, you might mark the wrong answer and you might feel that there are two correct answers. Read the question again and don't rush, don't assume your answer, you should be able to answer based on the data given in the passage in the test.
Students, answer the parts of the subjects that you know well first or go directly to your favorite part. This will save you a lot of time, but if you are still doubtful about any questions it is recommended that you skip it for now and attempt it later. Sometimes after you come back for a skipped question you remember the answer or occasionally you are more relaxed in the end and might be able to solve the problem quickly. 
By repeating the GED practice test again and again you will be more confident. Answer the questions confidently and trust yourself. If you have any remaining time use that to review your answers and remember that you are doing great. Don't fall into any trap some questions are just there to test your concepts.
The most important point while practicing your exam is to relax. Remember that you know everything and will be able to solve it. Takes lots of rest in between the section and don't try to overwork yourself this will only cause you frustration. You are not alone there are millions of students that will appear in the test with you. Keep up the good work.