ACT is a college admission test in the United States. It mainly covers 4 subjects English, mathematics, reading, and science reasoning. Find out ACT test registration, Dates, and scores.
What Is ACT?
ACT is a standardized test which was initiated in 1959 by Everett Franklin Lindquist a professor at University of Iowa and it generally stands for 'American College Testing'. It is a vital examination for the students applying for different colleges in the U.S. The ACT test merely judges the capability of the students who want to enter college and evaluate their abilities. The test itself is managed and developed by ACT Inc. Some of the colleges still favour their own entrance exam however most of them have additional conditions in combination with ACT.  The admission office not only considers your ACT scores but also review your CGPA, in addition to extra-curricular activities, recommendation letters from your professors, interviews and essays. Students with high ACT scores can sometimes get a benefit of exemption from a certain course or receive a fee waiver from the university according to your scores. The ACT exam can open more opportunities for you in future. 
Eligibility: Who Can Take The ACT Exam?
The requirement for entrance differs from one university to another. Mostly, junior and senior high school students are eligible for the ACT test. 
ACT: When Can I Take It And How Do I Register?
The procedure for the registration for the ACT test is very simple. You can easily register online on the official American College Testing website and you can apply till five weeks before your test dates. The ACT test can cost you up to $ 50.50 for a single test without writing, but if you have selected 'writing' as well the total cost would add up to $ 67 for a U.S national. If you are a foreigner the test can cost up to $ 150 without writing section and $ 166.50 with writing. The ACT test is organized every year in the months of February, April, June, July, September, October and December. It is suggested that you start appearing for the ACT examinations in your junior years and if you are not pleased with your results you can reappear and put more effort on your weak spots next time. Test results are accessible online and you can check them by entering your information.
We have Practice Test that you can use: ACT Practice Tests
Subject Distribution: What's In The ACT? 
It would take you just about two hours and fifty-five minutes to complete your ACT test without writing section but if you have opted for writing it would take you forty more minutes to complete your test. The ACT test chiefly consists of English section, math, reading part and science section, writing is an again an optional part and you can choose this depending upon the university that you have selected. Candidates make sure to confirm this before sitting in the exam to avoid any misunderstandings.
The English Section
The English section comprises of seventy-five multiple choice questions which should be finished within the duration of forty-five minutes. This part will test your grammar, punctuation and sentence formation.  In total there are up to five passages in this section and the part of the question that you have to work on would be underlined. You are asked to choose the best option from A to D.
All You Need To Know About ACT TEST DATES
The Math Section
The math section includes sixty multiple choice questions which should be finished within sixty minutes. In this section the use of a calculator is allowed so that you can save time. In this part a student's mathematical skills in mainly geometry, trigonometry and algebra are tested. A student should be able to solve questions related to elementary and intermediate algebra, coordinate geometry and plane geometry along with graphs and trigonometry. All the math formulas should be learnt by the student as they would not be provided during the examination.
The Reading Section
The reading section is composed of forty multiple choice questions that must be completed within the duration of thirty-five minutes. In total there are four passages and there are ten questions per passage that need to be answered. The reading section includes passages from various categories like prose fiction, social and life sciences along with humanities. All the answers should be marked according to the information provided in those passages.
The Science Section
The science section includes forty multiple choice questions that needs be finished within thirty-five minutes.  All the questions in this section involve passages based on science specifically biology, physics, chemistry and the earth sciences. The passages are presented with graphs, charts, tables and you have to analyze the data trends and make predictions to answer the questions.
The Writing Section (Optional)
The writing section includes one essay which should be completed within a period of forty minutes. If you have selected this option, you will be given additional time. It is always suggested that you take this part of the ACT test as some universities require it. 
My ACT Scores
After adding up all the sections the scores can vary from 1 to 36. If you have opted for writing part, then it will be marked separately.
All You Need To Know About ACT TEST SCORES
Support For Disabled Students
Students with disabilities can appear for the ACT test. If an applicant has mental or health issues help can be provided by the ACT team to accommodate the student as much as possible.
Study Guide: How To Prepare For ACT?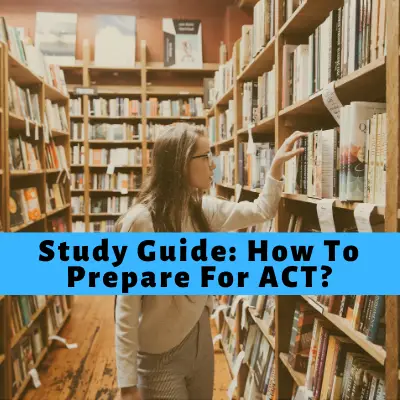 Study notes at local book stores and libraries are available all across the U.S. and Canada so that you can get ready for your exam.  Free online samples are also accessible to you which will not only save your time but money too. Practice questions of the past papers would give you more understanding of ACT test and will enhance your skills. Practice is essential to pass your test with good marks. Repetition of the difficult questions will boost your time management skills and will prepare you for the day of examination. Make a study plan with a group of friends regularly and encourage each other. Various ACT websites are constantly there for your help and guidance. Numerous academies are also open in each state with reasonable pricing that help prepare the students for their ACT tests in no time. 
Information For Candidates: What Do You Need To Know?
Identification For ACT?
All the scholars need to have correct documentation prior to the examination in addition to the entrance ticket. Identification should be original and in paper form and not in electronic form. It can be an identification card issued by your school or any authority and must be valid. Your picture should be clear and your name and spellings should match with your identification. A government issued ID is also suitable. An ID or ticket cannot be shared between students. A fake ID or ticket can disqualify you.
What Can You Bring On Your Exam Day?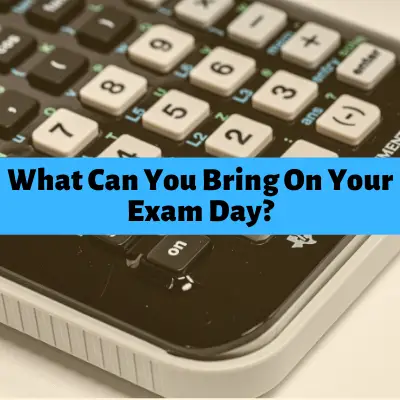 Electronics including ipods, notebooks and phones/smartphones are not permissible during the examination and are strictly prohibited. The supervisors will keep your phones before the examination starts and the ACT team are not accountable in case of loss or damage of the gadgets. You are directed to turn them off before the assessment starts for your own good and safety.
Calculators: Can I Bring My Own?
Candidates can bring their own calculators if needed as sharing will not be allowed in the examination hall. It will not be provided in the test centre as well. Only battery operated calculators without cords are acceptable. Make sure they are in good condition on the day of the test and are working.
Instructions Of The Exam Hall
 Listen to all the instructions carefully in the examination hall to avoid any delays before your assessment starts.
Timings Of The ACT Test
The test starts at 8:00 am and it is advised that you reach by 7:45; 10-15 minutes before time to avoid any mishaps before examination commences. You can reschedule if you are late or you have missed the exam due to any emergency. 
Answer Sheet
Mark all the answers correctly on the answer booklet and read the instructions carefully on the question paper.
Food Items And Snacks
Food is strictly banned during your assessment. You can eat or drink before the test so that you can pay attention on your exam properly.
Time Management For The Test
Allot your time appropriately according to the number of questions present in the test and answer all the questions. The choices are available from A to D for most questions. Think carefully and don't waste time on one question and move to the next. 
Silence In The Hall
Don't cause any disturbance in the hall otherwise the supervisors can disqualify you from the exam immediately.
Report Cheating
You can report any student that is cheating or using unfair means to compete in their test. A scholar involved in cheating or any other suspicious activity would be disqualified by the supervisors.
Completion Of The ACT Exam
The ACT exam will end by 12:35 pm. If you have to finish the writing section as well you will be free by 1:35 pm at most. 
ACT Test Dates 2019-2020
| | | | |
| --- | --- | --- | --- |
| ACT Test Date | Registration Deadline | Late Registration Deadline |  ACT Score Release |
| June 8, 2019 | May 3, 2019 | May 4-20, 2019 | June 18 – August 2, 2019 |
| July 13, 2019* | June 14, 2019 | June 15-24, 2019 | July 23 – August 26, 2019 |
| Sept 14, 2019 | Aug 16, 2019 | Sept 1, 2019 | Sept 24; Oct 10, 2019 |
| Oct 26, 2019 | Sept 27, 2019 | Oct 13, 2019 | Nov 12; Nov 26, 2019 |
| Dec 14, 2019 | Nov 8, 2019 | Nov 25, 2019 | Dec 24, 2019; Jan 7, 2020 |
| Feb 8, 2020 | Jan 10, 2020 | Jan 17, 2020 | Feb 18; Mar 3, 2020 |
| Apr 4, 2020 | Feb 29, 2020 | Mar 16, 2020 | Apr 14; Apr 28, 2020 |
| June 13, 2020 | May 8, 2020 | May 25, 2020 | June 23; July 7, 2020 |
| July 18, 2020 | June 19, 2020 | June 29, 2020 | July 28; Aug 11, 2020 |
These ACT test dates only apply to the US, US territories, Puerto Rico, and Canada.