A GED is managed by an organization known as the American Council on Education based in Washington. A British company known as Pearson publishing create the GED tests. If you have missed the opportunity for a regular high school diploma then don't fret as it's still possible by giving a GED test. A GED is an alternative route to help you to reach your goal and you can still make it. It is a great opportunity for students who couldn't qualify for the regular high school examinations. It is one step closer to getting the higher degree that you always wanted and it is still possible to get into the college of your dreams. A GED certification even allows you to transfer schools with ease. It is an internationally recognized qualification that makes it even better. The result card issued can then be used in job applications and further studies, any training, or for university entrance. 
What's In The GED?
Over the past few decades, it has become difficult for students to obtain a standard High School certificate.  GED generally stands for 'General Educational Development'. So in order to analyze your skills a General Educational Development (GED) test is organized by different states in the USA and Canada which is equivalent to a high school diploma. 
Check Our Online GED Classes
Am I Eligible?
The qualification for GED varies from state to state; however, students eligible for the high school category (16-17 years) can apply as long as they have their previous schools and parents' letter for approval. For your ease, you can pay and register for one test at a time without hassle online. Registration can be made 24 hours a day for all the days of the week. The cost of the test is affordable at $36.25 each. No special skills or training are required to appear in the examination. You can also retake this particular exam 3 times in a year to enhance your scores.
Who Can Take the GED Exam?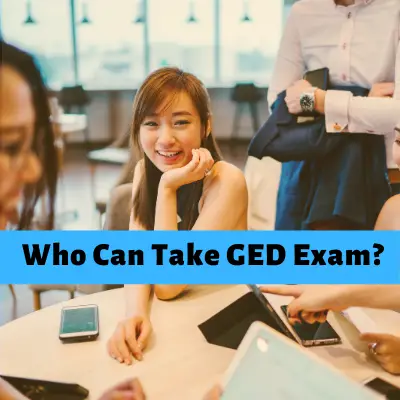 Students who need to enlist in the military can also take the GED exam. Pupils that were homeschooled in the past are also potential candidates. Additionally, students leaving school for medical or financial reasons can sit in the exam and complete their education easily as well.
Benefits Of GED?
GED is a great substitute for students in place of a high school diploma. It has numerous benefits; at first, it's a remarkable achievement in itself, as it reduces the rate of students dropping out from higher education, and secondly, it opens new doors for you for further achievements in higher studies. A GED certification also allows entering any various training programs like accounting or perhaps welding or healthcare. It will make your family proud and your life becomes more stable. Moreover, many employers still hire a student with a GED diploma. Usually, with a GED you can earn a handsome salary and do a job of your preference. It is your best option during the recruitment of jobs if you don't have a high school certificate. 
Check out our Free GED Practice Tests (2023)
Which Subjects To Take? 
The pattern of the test is very simple and understandable for all the candidates. The test can take up to 7 hours in total. There are a series of multiple-choice questions (MCQs) having four choices to choose from. Some of the questions are also filling-in-the-blank type questions allowing the candidate to write their own answers. Other questions include reasoning or are problem-based and have extra space provided to answer them. Moreover, extra space also permits the student to write more and provide longer answers to reasoning questions. Essay-type questions are included to check the grammar and spelling of the students as well. All the sections have varying lengths, limits, and times. The GED is an aptitude test that evaluates the student in four major subject areas which are as follows:
| | | |
| --- | --- | --- |
| Sr.No | Subject | Timings (minutes) |
| 1. | Science | 90 |
| 2. | Social Studies | 90 |
| 3. | Mathematics | 90 |
| 4. | Reasoning | 150 |
For your ease, several areas in the States are allocated for the testing centers. Many of the district schools are registered with centers where they can give written tests. A small break is given in between the tests for the candidates when required. In order to satisfy students whose first language is not English GED tests are now available in Spanish and French too. It is becoming more comfortable for students with disabilities to appear for the GED test as Braille, audio and large print is also available at centers to facilitate students. If a candidate has mental or emotional issues disease assistance can be acquired from the GED team and a health form can be attached to accommodate the student as much as possible. A sign language interpreter can also be arranged for the student. You may ask immediately if any assistance is required.
Scores
A score of 145 in each subject is enough for you to pass and you can use the transcript for your college entrance. A higher score can allow you to take many college courses and exempt you from some according to your score. Moreover, even a higher score than this can earn you college credit which saves you lots of energy, time, and money altogether. You can check your scores online which are easy to check just three hours after your exam has occurred. Achieving high scores can allow you to enter the college and program that you always wanted to study despite having a High School certificate.
GED Study Guide
Study guides are easily available at various bookstores and libraries all across the country for students preparing for a GED exam. Different kinds of materials can be used in the preparation of GED tests. A lot of material is available online for you to prepare which not only saves your time but money too. Some online sessions are carefully designed for you to achieve your desired goals. Solving online questions is an excellent way to prepare yourself and would give you a better grasp of the subject itself. Practice questions of the past questions would give you more experience and will enhance your time management skills altogether. Try to solve the questions that take most of your time repeatedly so that you can manage your time properly on exam day. If you have a group of friends in the same situation group study can be beneficial and you can encourage each other. Practice is the key to passing your exams with flying colors. Various GED websites are always there for your help and support. In the end, you can ask your family for support and encouragement.
Information For Students: What Do You Need To Know?
All the materials needed for attempting the examination will be provided in the center.
Identification Required For GED 
The test rules are the same for all candidates present in the center. All the students need to have proper identification prior to the examination. Identification can be in the form of a passport, a driver's license, a National State Identification Card, or any form issued by the specific government of your country. 
Gadgets That You Can Bring During Examinations
You are allowed to bring your own calculator. Other gadgets like music devices, laptops, and phones are not allowed during the examination and are strictly forbidden.
Instructions Of The Exam Center
You should listen to all the instructions carefully in the examination center to avoid mishaps or delays before your examination starts.
Marking Your Answers
Mark all the answers correctly according to the instructions provided on the exam question paper and revise your answer sheet in case you missed something.
Eating/Drinking
Eatables are strictly forbidden during your examinations. It is important that you eat or drink before the exam so that you can concentrate on your exam completely.
Time Management
Allocate your time properly according to the level, length, and a number of questions. Try to solve easy questions at first to save time and effort. Most importantly, you must be confident in your abilities.
Arrival Time
Arrive at the examination center 10-15 minutes before time to avoid any confusion. Report to your room and get settled in so that you have enough time to calm yourself before the exam.
Maintain Silence
Maintaining silence during the examination will not only allow you to complete your paper quickly but will let others finish theirs on time too. The disturbance caused by you can lead to disqualification so be careful.
Cheating
If anyone is caught cheating or involved in any suspicious activity they would be disqualified immediately by the invigilators. Do not share your answer sheet with any candidate which will also result in disqualification.
Rest
Most importantly you should be well-rested on the exam day and try to stay calm and positive. Believe in yourself and remember all the hard work that you have done during the preparation for the exam.
After The Exam
After the exam hand over your answer sheet to the invigilators and leave the examination hall quietly.